How to Create Private Links in Ghost CMS
Learn how to create private links and URLs in Ghost CMS. Learn how to easily share content with co-workers, clients, and collaborators, or even create exclusive gated content for a select audience.
Ghost is a popular blogging platform known for its amazing user interface and focus on creators, writers, and publishers. It has emerged as a WordPress competitor due to WordPress losing its appeal as a lightweight blogging platform and becoming a heavy "jack-of-all-trades" content management system. As a result, Ghost is becoming a popular WordPress alternative.
Ghost has many features, but some of them may be hidden or not clear at first sight. A common feature request from Ghost users is the ability to make their Ghost's specific links private. While you can create a page on a custom URL and avoid putting it in your Ghost navigation, this is not a true private link. Ghost is known for its amazing SEO features, including automatic sitemap creation. A sitemap is a list of all URLs on your website that is used by Googlebot and other robots to find and index your content easily. So, your "hidden" page will be included in the sitemap and will eventually show up in search results, allowing visitors to find the URL.
Fortunately, Ghost has a hidden feature that can be used to create private links. When you create a page or post in the editor, it is saved as a draft in your Ghost Admin until you publish it. This draft generates a private hidden URL that is meant for sharing with your teammates. However, you can leverage this feature to create private links for anyone. This private URL is never rendered in the sitemap, so as long as you do not share it publicly on social networks, forums, or even on your Ghost website, it will remain private and only people who know the URL will be able to access it.
Steps to create a private URL in Ghost CMS:
Create a new page or post in Ghost Admin.
Click the Preview button on top-right to view the draft.
In preview screen, click on "copy icon" shown on browser tab. It will copy private URL into your ClipBoard.
Paste this url in your browser and you should see your Unpublished post/page.

Images showing step by step guide, how to achieve that: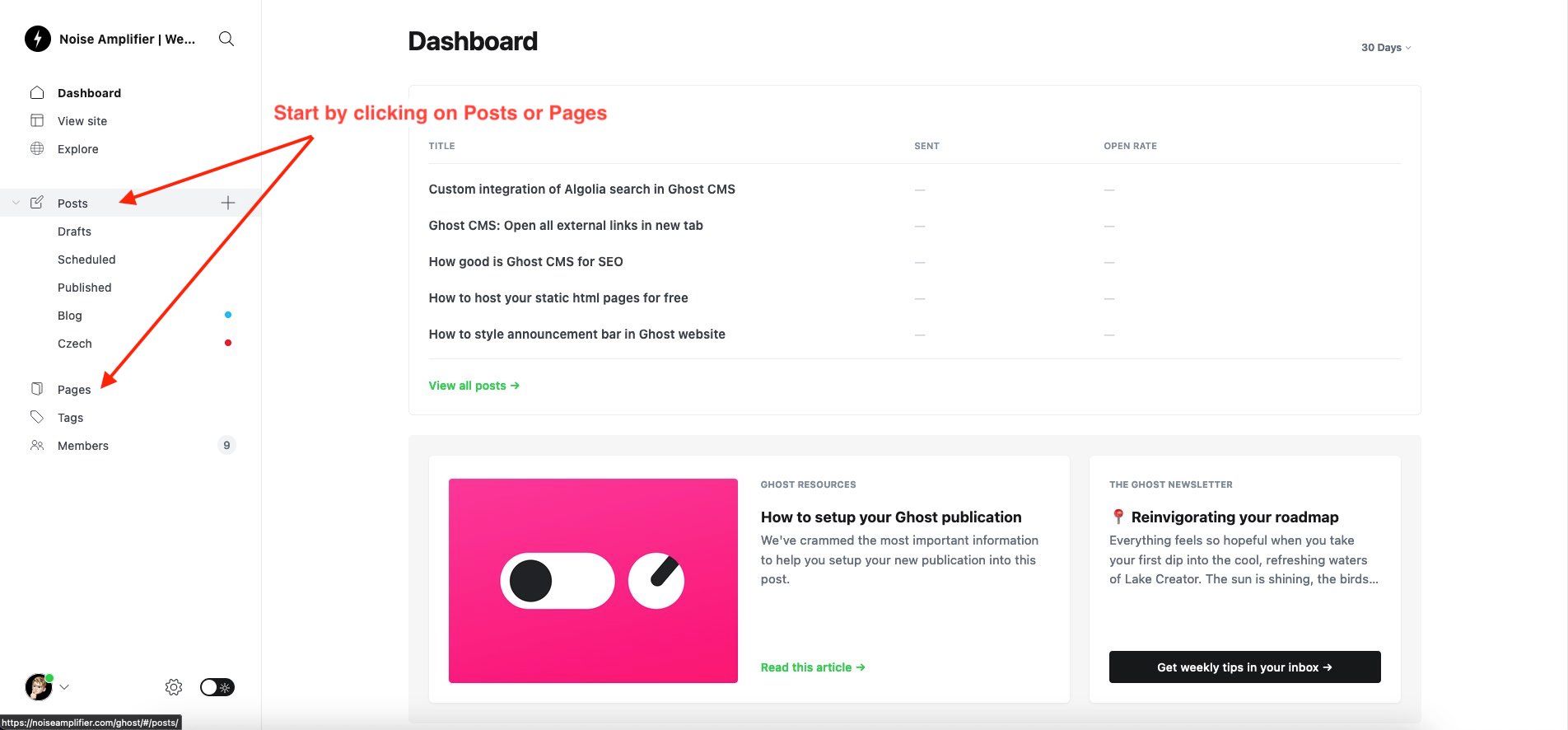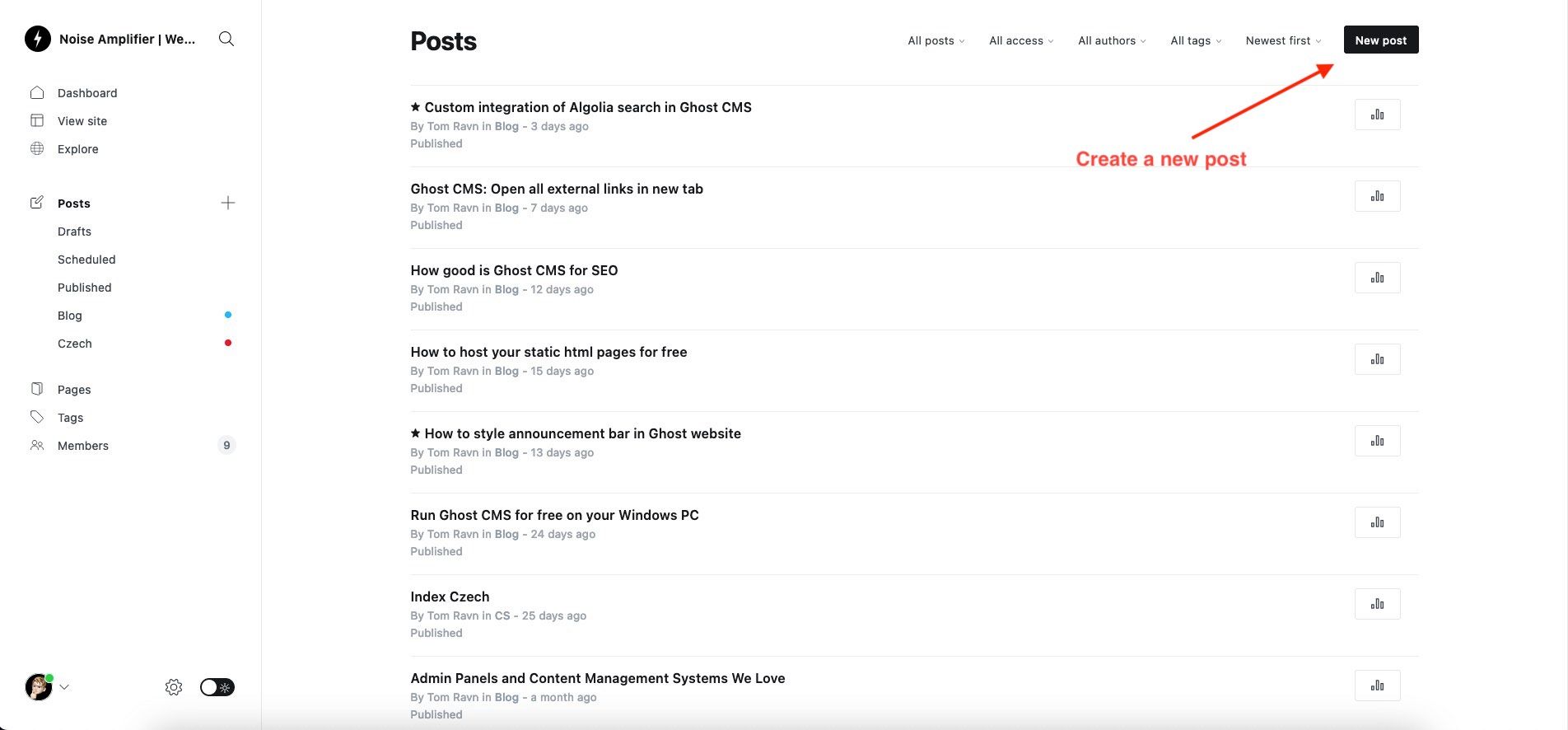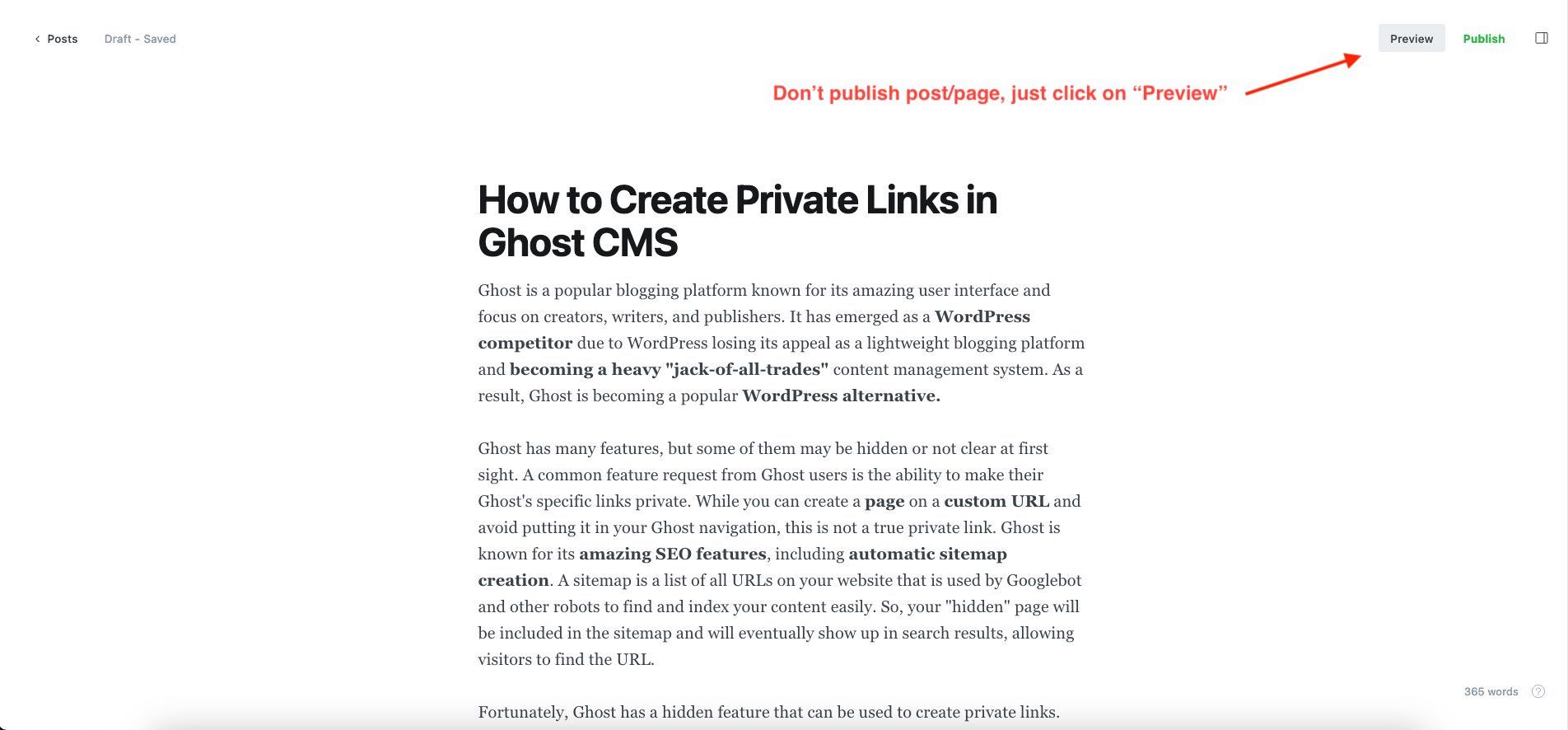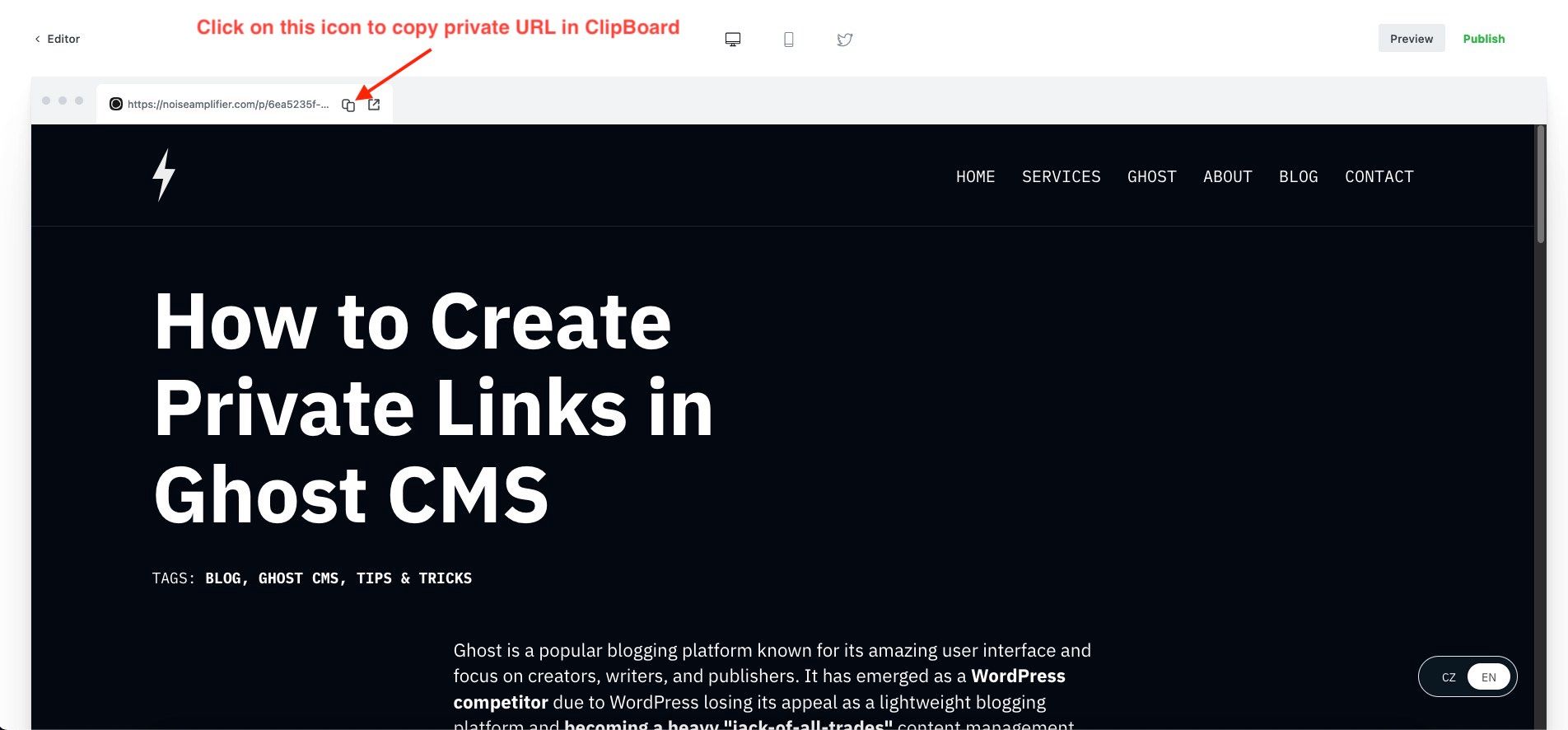 Now, you can test the URL by pasting it into your browser's address bar. This link remains completely private, allowing you to share it with your clients, collaborators, or host confidential content accessible only to specific individuals of your choosing. The private URL will no longer be accessible once the page or post is published. To create a new private link, simply follow the same steps again.
Benefits of using private links in Ghost CMS:
Share content with select people: Private links can be used to share content with specific people, such as clients, collaborators, or early adopters.
Create gated content: Private links can be used to create gated content that is only accessible to people who have been given the link. This can be used to generate leads, offer exclusive content to subscribers, or provide early access to new products or services.
Test content before publishing: Private links can be used to test content before publishing it to your website. This can be helpful for getting feedback from others or for making sure that your content is ready for publication.
Conclusion
Private links in Ghost CMS offer a versatile tool with various applications. By following the provided steps, you can effortlessly create and utilize private links for your entire Ghost website or specific pages and posts, enhancing privacy and control over shared content.
Ready to harness the power of Ghost CMS for your website? As seasoned Ghost experts, we can help you build, customize, and optimize your Ghost platform. Contact us today to elevate your online presence with Ghost CMS.